DUCKBILL SERIES
Trosx duckbill check valve and perfectly design for flood control & protect discharge line back flow, especially from rising of water level & also to ensure storm water does not back flow back to catchment area
1.PUMPED LIQUIDS
Thin, non-explosive liquids, not containing solid particles. The liquid must not attack the pump materials chemically. When pumping liquids with a density or viscosity higher than that of water, motor with correspondingly higher outputs must be used, if required.
ADVANTAGE OF DESIGN:
q. 100% elastomer construction
b. No moving parts
c. Minimum maintenance cost
d. Low cracking pressure
e. Low pressure loss
f. No rust or corrode
g. Will not warp or freeze open or shut down
h. Self-draining & eliminate standing water
i. Prevent back flow
j. Non slam design, silent operation
WORKING PRINCIPLE: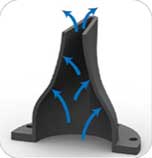 Whenever the valve inlet exceeded back pressure at the outlet valve, the flow mechanism will be created, as show above.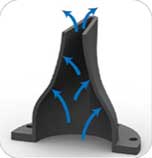 When the backpressure exceeded the line pressure, the duckbill will be closed automatically and prevent back flow.
APPLICATION & INSTALLATION:
a. Sewer application
b. Flood control
c. Pumping line
d. Mining tailing systems
e. Dredging
f. Scrubber systems
g. We/dry wall
MATERIAL OF CONSTRUCTIONS & APPLICATION:
•
 EPDM – water, weak acid, ozone and some hydrocarbon
•
NBR (Buna-N) – Oily water & waste water, fats, moderate
chemical & grease waste water
•
Natural Rubber (NR) – Alcohols, organics acid, ketones,
moderate acid & abrasive waste water
•
Hypalon (CSM) – Strong acids, ozone, oxidizing chemicals
•
Neoprene (CR) – Oily water, grease and fats
•
Viton (FKM) – Aromatic, solvents, halogenated, hydrocarbon,
acid & oils